Splunk Admin
Golive Classes, a leading training company to learn Splunk admin course and certification with real-time project material, useful notes, and details.
About Course
Master Splunk Admin course online with Golive Classes. We provide the best Splunk Admin course online in Hyderabad and other states in India.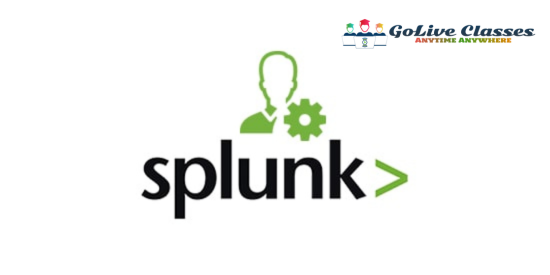 Splunk Admin Online Training Course Content
Introduction:
To remain competitive in the job market, IT professionals must keep up with the latest trends and tools as technology continues to evolve. IT professionals have become accustomed to using Splunk as a must-have tool. Data can be searched, analyzed, and visualized in real time using Splunk, a software platform. The ability to analyze data quickly and efficiently is becoming more and more important as organizations generate more and more data every day. Here are 6 reasons why IT professionals should learn Splunk.
Enhanced data management
Splunk is an excellent data management platform that offers IT professionals a comprehensive platform for managing data. Various sources, such as servers, applications, and networks, can be collected, stored, and analyzed. By analyzing trends and patterns, IT professionals can identify issues and troubleshoot them quickly.
Troubleshooting with efficiency
In addition to its powerful search capabilities, Splunk provides IT professionals with the ability to troubleshoot issues efficiently and quickly. Splunk can search multiple data sources in real time and identify the root cause of an issue. By doing so, downtime is minimized, and applications and systems perform better overall.
Compliance and security
IT professionals working in regulated industries need Splunk's security and compliance capabilities. By identifying potential vulnerabilities before they are exploited, it provides real-time visibility into security threats. For organizations that are required to comply with regulations such as HIPAA, GDPR, and PCI, Splunk also provides audit trails and logs for compliance purposes.
Collaborative improvements
Using Splunk for collaboration is an excellent option due to it's ability to collect and analyze data from multiple sources. With Splunk, IT professionals can work together across the globe to troubleshoot issues and share information. By improving communication and collaboration between team members, problems can be resolved more quickly and the outcomes can be better.
Growth in your career
The demand for Splunk-certified IT professionals is expected to grow over the next few years. IT professionals who can manage and analyze data using Splunk will be in high demand as more organizations adopt the platform. In today's competitive job market, you can stand out by adding Splunk skills to your resume.
Efficient cost management
Reduced downtime and improved performance can save organizations money by using Splunk. Organizations can save time and money by identifying potential problems in real-time with Splunk's real-time monitoring and analysis capabilities. IT professionals should be familiar with Splunk. The ability to master Splunk will enable IT professionals to remain competitive in a job market that is constantly evolving.
Splunk Online Training Course Content
Module 1
Splunk Overview
Splunk package and components
Installation procedure in various OS
Splunk Architecture Basic Overview
Splunk Ports and Protocol Management
Module 2
Set up forwarding and receiving
Types of forwarders
Forwarder Deployment Topologies
Universal forwarder
Overview and limitations
Forwarding configuration
Heavy forwarder (Deployment and Capabilities)
Routing and filtering data
Third-party routing from Splunk
Functionalities of Universal and Heavy Forwarder
Module 3
Deployment Server and Forwarder Management
Configure the Deployment Server-Client Architecture
License Management
Users,roles and authentication
Splunk configuration files overview
Data feeds
Data parsing and indexing
Analyzing the Data
Module 4
Overview of Indexers and Indexes
Indexer Capabilities
Working model of Indexers
Installation and Configuration of Standalone Indexer
Managing index and index storage
Understanding Index Buckets and Data Ageing
Retention and archiving policy
Basic Cluster Architecture
Clustering Terms
Types of Clustering
Single-site Cluster Deployment
Multi-site Cluster Deployment
Role of Master and peers
Managing the cluster
Module 5
Overview of Splunk Search head and configuration
Distributed Search
Deployment of Distributed Search
Knowledge Bundles
Search head pooling
Overview of Search head clustering
Understanding Clustering Terms
Configuration of Clustering
Integrate Indexers and Search-heads
Mounted Bundles
Understanding Clustered Architecture
Search Artifacts
Module 6
Basic Overview of Splunk Search
SPL Language
Create Simple Dashboards
Setting up Alerts and Reports
Common Search Commands
Troubleshooting Steps
Splunk Development Course Content
Module 1
Splunk Overview
Prerequisites and Installing Splunk Enterprise
Navigating Splunk Web
On-boarding data into Splunk Enterprise
Module 2
Splunk knowledge objects Overview
Classify and group events
Define and Maintain Event types
Tags creation
Field extractions
Field Extractor
Search-time field extractions
Regular expression overview
Extract fields with search commands
Create custom fields at index time
Overview of Lookups
Usage of Field lookups to add info to your events
Configuring and customizing Lookups
Saved Searches
Splunk CIM Overview and its correlation
Specify Cron Notation
Module 3
Types of searches
Retrieving events
Specifying time ranges
Using subsearch
Creating statistical tables and charts
Grouping and correlating events
Predicting future events
Common search commands
Best practices in optimizing search
Functions for eval and stats command
Application of the following search commands by category
Correlation
Anomaly Detection
Reporting
Geographic
Prediction and Trending
Search and Sub-search commands
Time commands
Formats for converting strings into time-stamps
Understanding SPL syntax
Usage of Keywords and Boolean operators
Module 4
Views Overview
Simple XML
Dashboards Overview
Functionalities
Panel creation and customization
Drilldowns
Employing Queries in Dashboards
Implementing JavaScript and CSS into Dashboards
Forms Creation
Form inputs definition
Macros Overview
Understanding of Data Models
Module 5
Alerts Overview
Types of Alerts
Setup Alert actions
Scheduled Alert
Real time Alert
Custom conditional Alerts
Triggered Alerts
Alert Manager Usage
Alert Functionalities
Alert examples
Alerts via savedsearch.conf
Usage of Tokens
Troubleshooting Steps
Module 6
Reporting Overview
Create and Edit Reports
Accelerate Report
Setup Scheduled Reports
Customize Report Formats
Report Functionalities
Report examples
Report via savedsearch.conf
Usage of Tokens
Troubleshooting Steps
Module 7
Walk-through over Splunk Apps
Basic Understanding of Splunk App creation
Want to book a Demo for this awesome Splunk Admin Course? Click Register.
Show More